Recently I've been asking people on various social networks, which platform do they intend to purchase Smash Bros on; Unlike my article which points out the "pros" and "cons" for purchasing it on a certain platform, the majority of responses seemed to result in people buying both a 3DS and Wii U Smash Bros game!
For those who're interested in getting the chance to play an early glimpse of the upcoming game on the 3DS, now could be your lucky chance! Anyone who's attending the San Diego Comic-Con has the opportunity to partake in getting a brand new demo!
All you have to do is take a picture of your whereabouts in the Comic-Con, tweet it with the hashtag #BringMeSmash and you might soon see a DM from Nintendo offering you a Download code for the e-shop to play the demo!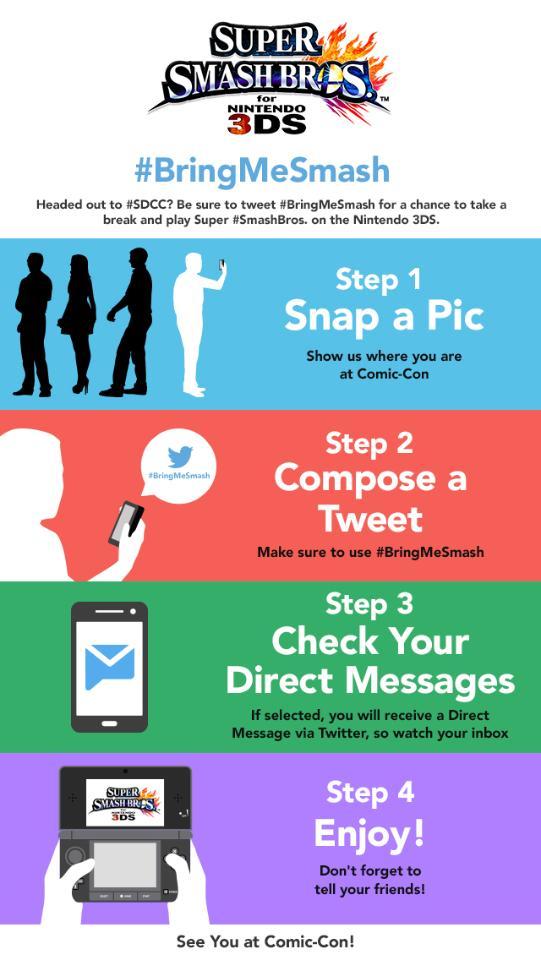 Anyone who's attending and has even the slightest interest in playing Smash Bros for the 3DS should consider trying this out; even if you may not care, you could participate and send the code to a friend/online to someone who would be interested in trying the demo!