The expected European release date for Smash Bros on the Wii U has always had a vague portrayal of when exactly the game would be able to be played. At first, the game was expected to arrive nearby the Japan release in December, however at one point Nintendo of Europe revealed that the game would only arrive a week later than the North American release – so that Europe would have access to Smash Bros during November 28th.
Whilst some fans were ecstatic over the earlier release of the game, many were left disappointed as various online retailers (such as Amazon.co.uk, ShopTo and Zavvi) suffered through delays of the game, leaving the purchasers to be unaware of when to expect their actual game to arrive.
Super Smash Bros hasn't been delayed for Europe, many gamers right now are battling each other in hectic stages and gameplay modes. However there still is a vast majority of pre-ordered Smash Bros copies in Europe which haven't yet been delivered. Had these gamers either pre-ordered (or now currently purchase) the E-shop version, or had they pre-ordered (or just now purchase) from another institution, the outcome would've been different.
Alas, many gamers are now left frustrated. A particular trend in these orders are those who purchased either the Amiibo/GameCube adapter bundles are most likely to have their package delayed. Some people have reported that their Amazon copy or their Zavvi copy has actually arrived, but those tend to be the singular game and not the bundles. The online retailers have contacted those awaiting the game and clarified that the game will actually be available during December 1st, but a few NeoGAF users are claiming that their emails have notified them of a December 19th delivery.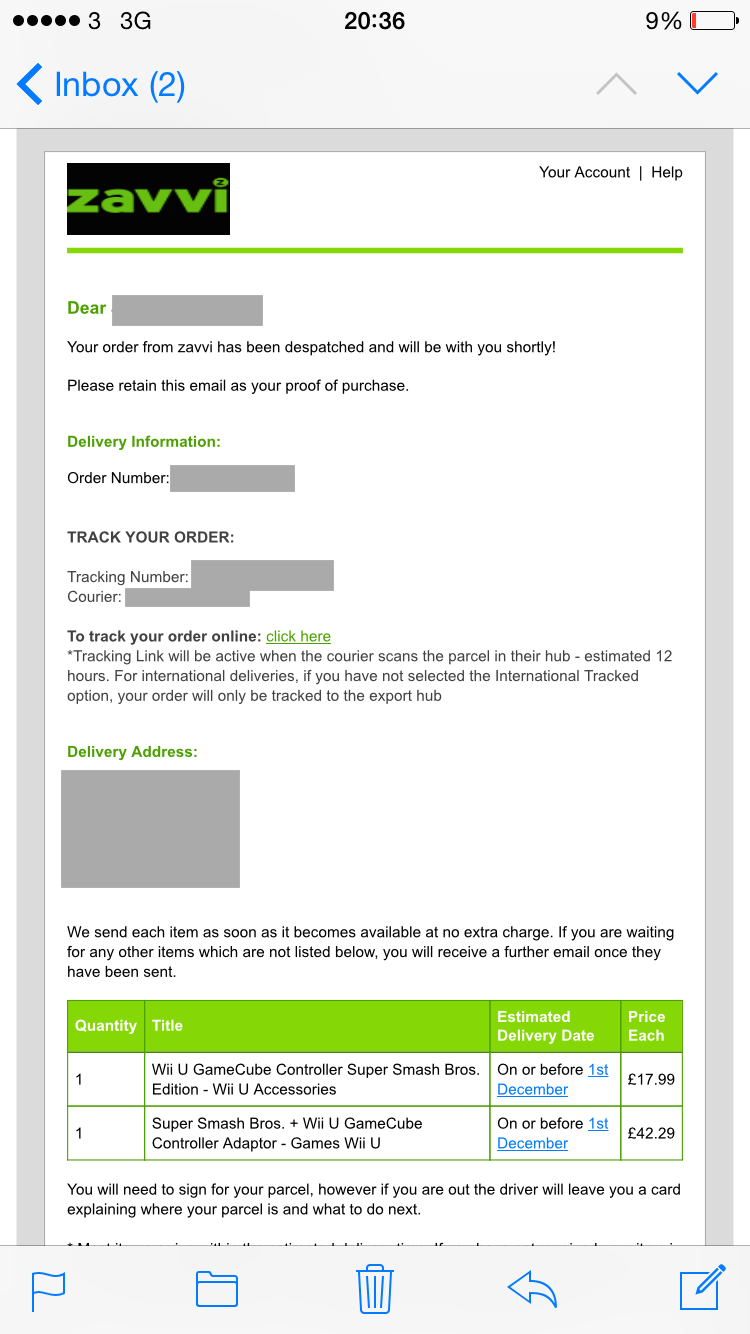 These companies still continued their advertisements which promised haste deliveries during the Black Friday sales, despite being criticised by many users of the delayed game. Despite which, none of the featured companies have provided a reasonable response as to who is to blame for the delay; nevertheless, ShopTo have claimed that the cause of the delay is due to "an unfortunate delay at Nintendo Europe", yet lacks a clear explanation as to why this is so.
So when are these pre-orders expected to arrive? Time can only tell. Using the Zavvi delayed order as a reference, Zavvi have yet to actually ship the game itself. The Hermes delivery tracker which Zavvi redirect themselves to hasn't updated itself since my order has allegedly been "dispatched". These online retailers seem to be unsure themselves as to when the actual release date (the 28th of November) is when to take place, and it may take a while for them to figure out when to send it off to customers.
What has been the worst delayed order experience for you? Share your stories in the comments below!